Giving a thank you card for the kids will warm their hearts since they realize they are being acknowledged and appreciated even through a small thing. Creating a thank you card can also unleash the creativity of your kids in drawing, coloring, and learning to write a simple message.
Here are the inspiration of thank you card ideas for the kids. Simple, easy to make and still meaningful for the recipient. Let's check it out and start to make it with the kids!
1. Thank You Beary Much
Cute little bear is undeniable for the kids. The style is simple and fun but still matches the style for the kids. Little bear is hard to resist and the color choice is really playful. You can write the notes and show your appreciation through this kind of thank you card inside. So, no one can read unless the recipient.
2. Three Languages
When you or your kids are stuck about what to write on a thank you card, this idea will help you. There are three languages in order to say 'thank you' that you or your kids can make. Also, creating a doodle to decorate the card is always a fun way to do.
3. Rainbow Card
These thank you card ideas are so cheerful and bright to look at. Rainbow style will make your daughter happy to design the card and write the notes inside. Let your kids beautify the card based on their favorite color. Don't forget to remind your kids to give a signature at the bottom.
4. Thanks From The Favorite Plants
If your kids like to take care of the plants, you can show your appreciation to them by giving this thank you card that is described as a thank you from their favorite plants at home. It will make them happy as well to take care of more of the plants since the kids know that they are being appreciated even from a small little thing.
5. Watercolor painting
Having fun with watercolor is not only good to unleash your kids creativity but also reduce stress or anxiety for them. Let them reveal the color on the paper and write what's on their mind to show their gratitude towards their teacher, you as their parents or even for other family members. The focus is not about the result but how they create it with their own will.
---
You Might Also Like:
---
6. Colourful Crayon
When some kids don't like watercolor, you can offer them to make a thank you card by using crayon. It is still fun too! Also, let them draw their favorite things on the card and express their feelings through the message inside. It helps them to show what they think since beginning.
7. Show With Your Kids Photo
This idea is one of a kind thank you card because you can insert your kids' photo as the cover of a thank you card. A memorable photo will be priceless since you can throwback to that moment once you give this to your child.
8. Card For A Jar
Instead of giving a thank you card only, you can give a sweet treat as well for the kids or from the kids for your teacher. A sweet message and sweet snack will surely make a day for the recipient. It is such a perfect gift to welcome the holiday.
9. Fill The Color Card
Such an easy thank you card that can be made by your kids. Because it is simply just coloring the template card and if your kids want to show their gratitude, they can write the message on the back of the card. Or if it is too simple, they can add the drawing on it too.
10. Stamped Thank You Card
Unleash creativity through colorful stamps like this one. Your kids can make a flower, stars or any drawing they like. Don't forget to show some love through the message of thank you on the card. Let your kids play with various colors, no matter if the color is matched or not.
11. Showing Gratitude Through The Card
Very cute and undeniable thank you card. When your kids love flowers, they can draw and describe themselves as flowers and give a thank you card as a gratitude towards you or their teacher. When giving the card, they can fold the card like this one, so the recipient can read it privately.
12. Accordion Style Card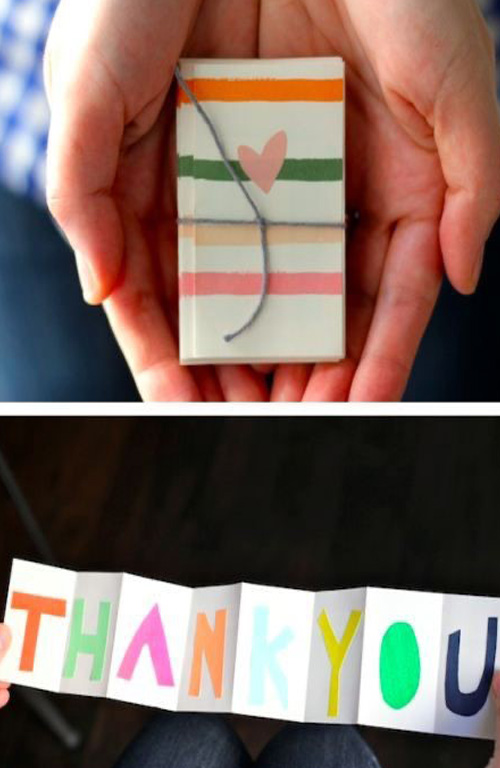 Unique and creative thank you card for your kids. They don't have to write, but cut the origami paper to show the message on it. Moreover, the kids can shape and cut the decorative items, such as hearts, stars, flowers, and many more. Don't forget to provide the colorful origami.
13. Origami Tree Card
Playing with origami is always exciting. This origami tree card is one of the ideas of a thank you card for kids that you can steal. Origami letters and putting it as leaves is easy to make. Your kids just have to fold it and stick it to the tree drawing. Make it colorful and they can write thank you message on the back.
14. Caterpillar Drawing
The most adorable caterpillar is here! It is such an unforgettable caterpillar because it brings a cute message for the recipient. The message is simple but very meaningful. If this idea is for your kids, we guarantee that the caterpillar becomes their favorite animal the moment you give this thank you card to them.
15. Funny Thank You Card
If you love to throw the pun, this idea fits best. An epic idea to create a thank you card that no one can have. The color is classic including the famous brand that will complete the message. Also, no need to draw much for this card.
16. A Bunch Of Grape
A bunch of grapes as a cute thank you card for the kids or from them. Drawing grapes is easy, especially the colors are not too many. Then, you can continue by writing the message for the recipient.
17. A Jar Of Love Card
You will need origami and coloring tools to make this thank you card idea. A jar of love is pretty described how the recipient means to the sender. A short and precise message on the bottom of the card completes this thank you card. The key is pastel colors that you choose to make this item is cheerful.
18. Cute Drawing Card
Awww this adorable drawing can be framed if your kids decide to make it like this one. Such a memorable card actually instead of a thank you card. You know you have to start create a diy card when you see this idea!
19. Balloon Thank You Card
Since every kid loves colorful balloons, you can tell them to make this drawing and let them color the balloons based on their favorite color. Also, the balloons can be a description for the person that she/he is thankful for in their life.
20. Rainbow Hearts Card
Cutie rainbow hearts as the cover of a thank you card. White paper and your kids can write the message of thank you letter inside. Since it is a blank paper, they can draw their ideas or anything inside as well to make the letter be more meaningful and fun to read.
Conclusion
Creating a thank you card at first might be tricky, but it is easy since the materials you can find easily in your house. Such as blank paper, any tools for coloring, and a pure heart to write the message.
---
Latest Post:
---
Frequently Asked Question (FAQ)
What do you write in a kids thank you card?
You can customize the message to fit the specific gift or action that the child did. For example, if they drew you a picture, you could say "this is the cutest drawing ever! Thank you, my love!".
How do you make a thank you note for the kids?
First, you will need a few materials such as blank paper, crayon or watercolor or pencil color, some stickers to decorate or bow. The size for the cards is also not that big, you can use A6 paper to make a thank you note for the kids. Then, you can write a simple thank you note. For instance a thank you note for the kids since they already helped you to water the plant or prepare the dinner.