Taking a kid's birthday party outside is a great option instead of hosting it inside the home. The outdoor parties offer the kids a venue to run, stretch, and improve creativity with fun games, excellent themes, and delicious foods. However, finding the best outdoor parties sometimes get complicated.
Don't worry! We have summed up 25 outdoor kids' birthday party ideas for girls and boys from 3 to 7 years old. Just relax and scroll down the articles.
How do you make an outdoor party special?
Be sure to pick a suitable theme and consider the outdoor party favors. Then, we started decorating the venue with attractive wallpaper and accessories based on the themes. After that involved my kid in choosing their favorite one.
Then, we plan the menu and the drinks. The meatballs, chicken parmesan, and sausage rolls are the favorite treats for kids of all ages. Best of all, we arrange easy and fun games, like balloon toss, outdoor obstacles, or other fun games.
What is a good menu for an outdoor party?
Dips and salads belong to a healthy and easy menu for an outdoor party. we can make these for starter foods. A juicy watermelon, tomato salad, or a white bean dip is perfect for refreshing and quick treats.
Besides that, we serve simple outdoor foods, including chicken nuggets, meatballs, and sandwiches. we offer pink lemonade, smoothies, and fruity juices for the drinks. However, making the signature food based on the party theme is better.
How do you keep food warm for an outdoor party?
We wrap the food with aluminum foil for the easiest step. The aluminum foil is effective in maintaining the food's warmth. After that, we keep the wrapped foods in a cooler. The cooler can load 4-6 wrapped foods to maintain the heated temperature.
In addition, we also use a slow cooker. It is like an oven and great to keep the food warm and ready for the party. This equipment is proper if you serve meats and vegetables.
Outdoor Kids Birthday Party Ideas for 3-Years-Old Kids
1. Farmer's Market
Applying a farmer's market theme to celebrate a three-year-old birthday party is great. We choose this outdoor kid idea because it is simple, unique and low-budget. Besides that, our little kid wanted his birthday theme about fruits. It is a great way to make his dream come true.
We started setting up a unique farmer's market stand as the food area. Then, decorated the party with all about farm animals. To make the party special, bringing a petting zoo is perfect. Our kid and little attendees love it so much. Then, We planned to have outdoor fun party games, including horseshoes, bean bag toss, and other outdoor games.
2. Kid's Dance Party
Our little princess and her friends want to get active at the party, so we throw a kid's dance party, and choose a backyard as the outdoor venue. The birthday party is simple, with little preps, by playing the music and let them dance based on their cute movement.
We get a color wheel and disco ball to make extra fun at the party. The outdoor party offer more excitement with the Freeze Dance. The parents also participated in the party by demonstrating the different dance moves. They just need to follow and copy the movements. Seeing how they dance and move with their freestyle is so nice.
3. Go Fishing Party Ideas
Setting up a fishing game is our favorite for throwing kids' outdoor parties. We use a kiddie pool instead of bringing him and his friend to the pool. He loves it so much when catching fish. We also prepare the equipment for the little anglers.
There are fish sets, fishing rods, and DIY fishing sets. Of course, I also add some colorful fish. My kid and his friend enjoy scooping the fish using a net. To make a thrilling experience, I give the kids a corresponding prize. They can take the fishes that they catch to their home. This go-fishing theme is one of the breathtaking outdoor birthday party ideas.
4. Puppy Dog Pals
Our little boy loves puppies so much. We get inspired to throw an outdoor party with puppy dog pals. It is a well-known kid's cartoon that features two puppies. She loves cartoon. This birthday party idea is also great for kids who love little dogs.
We go with the ready-made decoration of Puppy Dog Pals. We also give some touches to make the party special, including serving snacks in the dog dishes, setting up a play dog house, preparing animal costumes for little attendees taking a picture, and creating bone-shaped cookies. It is one of the outdoor kids' birthday party ideas that most kids love.
Outdoor Kids Birthday Party Ideas for 4-Years-Old Kids
5. Circus-Themed Birthday Party
A circus birthday party is always my choice. It is simple and cute both indoors and outdoors. Best of all, We just need little preparation. We started by decorating the venue with balloon animals and balloon bouquets. Then, added a decorative circus banner and arranged colourful top hats, bright outfits, and wigs.
We also arrange some attractive stands to put the snacks, drinks, and prizes. For a bonus thrill, we also hire the funny clown. My kid and her friends were excited about the clown's performance. There is also a photo booth to capture the moment during the fantastic party. The party games, especially the ball toss and spin wheel, made the party so exciting.
6. Ice-cream-themed Birthday Party
Most kids love ice cream. We got inspired to celebrate our boy's birthday part with an ice cream theme. The party idea guarantees that the kid and his friends enjoy the party a lot. First, we involved my little hero in choosing his favorite colors. Then, we set the tone and decorated the venue by arranging the stands, banners, and accessories.
For the attendees, we give them cone-shaped party hats picking them from online party suppliers. How about the food? Of course, we served them an array of delicious dishes, including chocolate, vanilla, and strawberry. we also add the other offerings, like chocolate chips, and sprinkles, candy as the toppings.
7. Customed Characters-Themed Birthday Party
Customed characters-themed party is a great option to celebrate our kid's birthday. Our little boy loves watching Spiderman. He adores the characters and wants his birthday party Spiderman themed. We started decorating the outdoor venue with simple wallpaper. Then, arranged some tables for food and beverages, a superhero photo booth, and party game venues.
In the invitation, his buddies to come and dress up in their favorite characters, Superman, Captain America, or other characters. To bring extraordinary experience, we arranged for character appearances, including Harry Potter, Dr Strange, and others. Of course, the performances would be a hit at the child's birthday parties.
8. Art-Themed Birthday Party
We choose an art-themed birthday party as one of favorite outdoor birthday party ideas. My little boy loves painting so much. So, we throw an art-themed party. It is simple but adorable. We just prepared some paintbrush sets, mini canvases, and palettes. Let our kid and his buddies paint their favorite objects.
We also arranged fun sponges and a lot of washable paint. We also bring face painting and other party games to make the outdoor party more enjoyable and exciting. Of course, this outdoor birthday party is one of the great options to celebrate the four-year-old kid's party.
9. Mermaid Birthday Party
Our little girl asked me to throw her 4-year-old birthday party with a mermaid theme. It is a fun and simple idea. We could make her dream come true by holding a fun party in the backyard. With simple decorations with balloons and accessories, then, arranged some tables, and chairs and, of course, had attractive games.
We also added cardboard coral, seaweed made from crepe paper, and nets on the wall. To make a thrilling moment, setting up a pool is our option.. Besides that, we make my child wear a beautiful mermaid dress and ask her buddies to wear similar or aqua-themed colors, including coral, blue, or white.
10. Princess Birthday
Our lovely girl to be a pretty princess at her birthday party. Yes, it is like a royal palace party. We started to decorate my backyard with a panel wall, balloon garland backdrop, and other accessories. We got inspired by Disney.
Fortunately, my child also loves the Disney princess. Through the party idea, her dream came true. We also set up the throne for our kid and her buddies. Let them dance and follow the music. As a bonus, we arranged some fun games. Surprisingly, they enjoyed the party.
---
You Might Also Like:
---
11. Outer Space
Outer space is our favorite idea for a child's birthday party outdoors. Our little boy is also interested in the sky and outer space. We start with making invitation cards from free printable cardboard, including astronauts, rockets, aliens, or planets. We arranged some balloon aliens, star buntings, space backdrops, and other space decorations for the decoration.
How about the food? We serve the little buddies with cheese ball asteroids; space shapes Goldfish crackers, space cupcakes, and rocket and star-shaped sandwiches. we also made moon rocks (egg rolls covered in foil). To make the party, we also asked the buddies to make some DIY rocket corner bookmarks and had fun with the attractive games.
Outdoor Kids Birthday Party Ideas for 5-Years-Old Kids
12. Puppet Show Party
A puppet show is one of my favorite outdoor party ideas. The 5-year-old party offers a great combination of time and crafts in the spotlight. The show is also perfect for coming up with well-known storylines, like Moana or Frozen. It helps my kid and her buddies to know ahead of time.
For a party game, I let them create paper bag puppets. I set out the paper bags, markers, stickers, glue, and yarn. It was nice to see how they made the project. I also supervised them for a few extra help if necessary. Best of all, the attendees enjoyed the puppet show while grabbing snacks and tasting beverages.
13. Fire fighter Party
A firefighter birthday party is a suitable option to introduce the kids to their careers. Then, I got inspired to throw the firefighter party in my backyard or garden. The party features a wide range of fun games. Of course, it can also include a lesson on fire safety. I invited the local firehouse to deliver the information about fire safety at the party.
For the party favors, I asked my kid's buddies to wear fire hats and gave safety coloring books and teaching tools. I also set up the spot on the Dalmatian game. It is a fun game related to the firefighter career.
14. Farm Party
My 5-year-old kid loves farm animals. That is why I tried out the farm-themed birthday party outdoors. I chose the nearest local petting zoo. The venue belongs to an excellent location for outdoor kids' birthday party ideas.
I serve my kid and her buddies donuts and cider for the food. I also arranged the lay of a picnic blanket and hay bales for the seating. For the party favors, I set out the tiny terra cotta pots, a packet of seeds, and plastic farm animals. I also set out the Duck-duck goose. It is an easy and simple game that every kid can play it.
15. Superhero Party
My kid is a big fan of superheroes, whether DC or Marvel. Then, I had an idea to bring his favorite Superhero to the birthday party. I started decorating the venue with Superhero wallpapers and some balloons. He and his buddies come with their favorite Superheroes, such as Avengers, Guardian of the Galaxy, or others.
For the food, I set up blueberries, strawberries, and cakes on a platter with the Superhero's decoration. The superhero-theme pencils, masks, and comic books are also available as a bonus thrill. For the game, I arranged "catch the villain". I was the villain and let them catch me. The "Hulk Smashing" was also a nice and fun game.
16. Soccer fan party
Celtic F.C is my little kid's favorite soccer club. I get inspired to throw a football-themed birthday party. Based on his choice, I decorated the outdoor venue with blow-up balls, tablecloths, soccer nets, and a birthday cake.
Besides that, the guests can come to the party dressed in their favorite football jerseys, whether Juventus, Chelsea, Arsenal, Real Madrid, or even a local football club. I set up a Football ring toss or a hula hoop from a tree for the game. They could have fun with the games.
17. Unicorn Party
Unicorn is always my favorite birthday party idea. My 5-year-old boy loves fantasy, so the party idea makes his dream come true. I decorate the venue with beautiful balloons and unicorn horns. The white tablecloth also surrounded the venue.
The party favors are reusable straws, headbands with unicorn horns, and plastic wands. For dessert, I serve the guests confetti cake. A Unicorn ring toss is also a great game to arrange. They can play the game by tossing the rungs over the unicorn's horns.
18. Pirate Party
Let's make a birthday party with a pirate theme. The party comes with plastic swords, pirate hats, and eye patches and is dominated by loot and stripes. Then, I serve cut-up fruits with mini sword skewers and unpeeled bananas for the food.
For a bonus thrill, there is also a "walk the plank" game and pirate face in a hole to take photos. They can enjoy the engaging game. The party favors are chocolate coins, plastic eye patches, and little treasure bags that are filled with party treats. The party idea is simple but adorable. I love it so much.
Outdoor Kids Birthday Party Ideas for 6-Years-Old Kids
19. Water themed-Party
A water-theme birthday party is perfect for throwing on a summer day. My 6-year-old boy enjoyed the party where he and his buddies could swim for the summer fun. Instead of swimming, there is a wide range of fun and engaging water games.
For the decoration, I go with shark-themed decorations with some balloons. The watermelon and other offerings are also available to taste. I also set up sunglasses, small sand buckets, and beach balls. For great pleasure, I arranged the water balloon toss. The guests are divided into two teams facing each other.
---
You Might Also Like:
---
20. Monster Party
A monster party is an excellent idea, as my little hero loves monsters. He got inspired after watching the Monster Inc. movie. This party is also one of the best outdoor kids' birthday party ideas falling near Halloween. The decoration is simple, easy to buy, and dominated by a black theme. The balloons are shaped like monsters.
Then, I make Halloween masks and invite the guests to come dressed in costumes or masks. For the treats, I serve some creepy foods, including cookies decorated as monsters, skull cupcakes, and others. I arranged the Monster bean bag toss and had the finger puppet show for the game. For the prizes, I bring them small toys and monster pens
21. Petting Zoo
By 6 years old, my kid has been more curious about everything. He loves being outside and interacting with others, including animals. So, I bring him to a farm or petting zoo while celebrating his birthday party with semi-educational activity. He and his friends will be familiar with magnificent creatures like bunnies, chicks, guinea pigs, and more.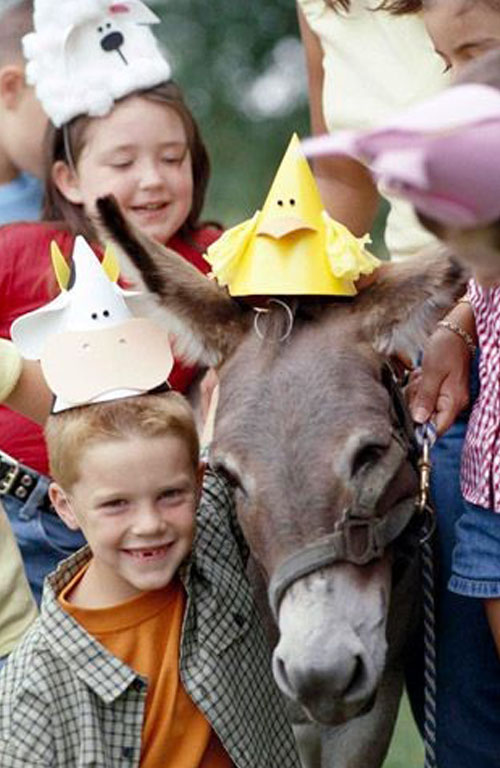 Of course, they can also look for a petting zoo with more giant animals, like ponies, goats, and deer. I serve simple treats like ice cream, chicken nuggets, sandwiches, or chocolate. After that, let them discover the animals and capture the moment during interacting with them.
22. Adventure Playground
An adventure-themed birthday party is a perfect choice for 6-year-old kids. My kid love traveling and adventure outside. So, I got inspired to celebrate his birthday party in the local parks. There is no special decoration. I arrange some tables for treats and prizes and bring engaging and fun games.
They could get active freely. Whether they have fun with obstacle courses, camping, mini go-karts, climbing, or classic games, my kid and his buddies love being active. I guarantee that the outdoor kid's birthday party idea will make them excited. The party idea is also great for those with limited house space.
Outdoor Kids Birthday Party Ideas for 7-Years-Old Kids
23. Gardening Party
An outdoor gardening party is an excellent opportunity to do something great for our environment. Through this birthday party idea, I could teach our little guests the benefits and values of planting new flowers, trees, and others.
They can learn to care for the plants, including potting the soil, seedings, and more. After the educational party, I hope they can apply their new experience with their plants in the home. Besides that, I also arranged the art station where the guests could decorate their pots
24. Ninja Warrior Course
Since watching the Ninja Warrior reality show, my little boy has wanted to have a Ninja-themed party. Seeing the little kids climbing, running, swinging, balancing, and dodging is fun. The party idea offers happiness as well as promotes healthy life.
I set up the Ninja Warrior course in the backyard. I also designed the easy-medium obstacles for the kids. They should complete the obstacles by going through the course. After they got active, I served special treats, including smoothies, ice cream, cake, and other snacks. There was no special decoration for the Ninja Warrior party.
25. Spa Day
Spa Day is an alternative outdoor kids' birthday party idea. I tried to throw the spa day party to celebrate my little girl's birthday. Instead of inside the home, the party can also be held outdoors, especially in the summer. Invite the guests to come dressed in their robes or pajamas. The decorating mirrors and cute flip-flops are also ready to go.
The guests would be pampered with face masks, mini mani-pedis, and cucumbers over their eyes. I served them smoothies or juice with little drink umbrellas for the treats. The kids can also make their body glitter from extra fine glitter and aloe vera. The temporary tattoo was also the bonus thrill.
Conclusion
Throwing the right outdoor kids' birthday party is simple now. I can choose the best party for my little kids through the kids' party ideas above. Whether celebrating a birthday for boys or girls and 3-year-old kids to 7 years old, the pictures above offer a simple but adorable outdoor party. Spa Day, Unicorn, and Princess Parties are perfect for girls, whereas the Sport-themed party, pirate, and adventure are also great for boys.
---
Latest Post:
---
Frequently Asked Question (FAQ)
How do you make a backyard birthday party fun?
I set up lots of chairs, tablets, and blankets. Then, I decorate the venue with simple wallpapers and balloons. Of course, a wide range of fun games is also available as a bonus thrill.
How do you keep kids entertained at a birthday party?
I will arrange easy and inexpensive games to keep the kids entertained and busy. Some fun games include balloon toss, scavenger hunt, and other activities, including freeze dance, face painting, or even a grilling party.
How do you entertain guests at a kids' party?
Keeping the guests entertained seems to be stressful. But I go with fun and simple activities, including a dress-up station, movie room, card games, stickers, notepads, crayons, and pencils.
What is the most popular outdoor game?
Soccer is one of the most popular outdoor games worldwide. Besides that, the other popular outdoor sports are Hockey, Volley Ball, Basketball, Tennis, Cricket, and Rugby.
How do you set up food for an outdoor party?
I serve the simplest and most accessible food for any outdoor party, such as Meatballs, chicken nuggets, sausage rolls, sandwiches, steak, or chicken tenders.